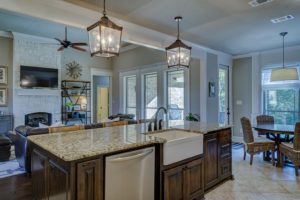 Take a look around your kitchen and think about the changes you would like to make. Maybe your floors, walls, and surfaces are all elegant and beautiful, but your kitchen cabinets still need some work. Here are some ways to update your kitchen cabinets by using contrasting colors.
Darker Kitchen Cabinets 
Make a classy statement by choosing darker kitchen cabinets. Whether it is a full black palette or a deep brown, almost coffee-like brown, both of these shades can make a big difference. If your kitchen feels small, darker cabinets can help it feel less cramped. Pair these cabinets with lighter counters. Not only is this combination visually appealing, but you can also help brighten up the room. 
Don't forget about your backsplashes, either. The backsplashes serve an important purpose by preventing spills and stains forming in various parts of your kitchen. But you can also use them to draw the eye with the right mix of contrasting colors. 
And the floors matter, too. Whether you choose lighter colored stone or even another option such as bamboo, you can impress your visitors while making your floors more vibrant, easier to spot stains and crumbs, and make it easier to clean.
Lighter Kitchen Cabinets
One aspect of darker kitchen cabinets is that they help the kitchen seem more dramatic. But your kitchen should also be light and airy, and lighter kitchen cabinets can help make that happen. 
Bring in an island with darker tones to it. By doing this, you can make your lighter cabinets stand out even more. 
Do you need a butcher block? Choose a darker wood textured with wood grain to add even more character to your new kitchen design. 
Last but not least, don't overlook the hardware built into your kitchen cabinets. The handles and knobs can be redone to offer even more aesthetic improvements. 
PROFESSIONAL DESIGN AND REMODELING SERVICES FROM ABOUT KITCHENS AND BATHS
About Kitchens and Baths has the Annapolis community abuzz with excitement over our stellar home renovation services. With an approximate timeline of only three weeks and two days for project completion, we outshine the competition in our reliability. From tear out to design, all aspects of each renovation project are handled in house by our expert team. We ensure customer satisfaction and consistent quality for all remodeling services. Visit our showroom to meet the About Kitchens team and discuss your design goals. Our home renovation services are versatile and detail-oriented, supporting all styles, features, and rooms. While kitchens and bathrooms are our primary focus, we also channel our skills to assist home office and laundry room renovations. The sky's the limit! Call us at 410-573-0877 or email us at aboutkitchensandbaths@yahoo.com or fill out our contact form today!
We're social! Follow our blog, Facebook, Houzz, and LinkedIn for all the latest updates and design ideas!