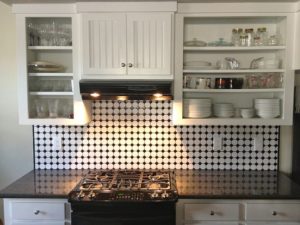 Lighting plays several important roles in your custom kitchen. The most important of these roles is safety. Your kitchen will be one of the most heavily used rooms in your home. When preparing for your new kitchen remodel, start planning your lighting design early. Good lighting can make a world of difference in your kitchen!
Different Layers
There are 3 different purposes your kitchen lighting will need to serve: tasks, accents, and decoration. Some lighting fixtures can multi-task, but there's no such thing as a one size fits all light fixture.
Task lighting– As the name would suggest, these fixtures will light up work areas such as where food is prepared or inside a pantry.
Accent lighting– Accent lighting assists task lighting. Often, accent lights are on a dimmer switch so that they can be brightened or dimmed based on the amount of light needed at a given time.
Decorative lighting– Just because a light fixture is deemed "decorative" doesn't mean that it doesn't perform a function. Accent lighting can add depth and dimension to your kitchen, and act as good night lighting.
Lighting with Style
Most of today's homes have more open floor plans. You will want your lighting design to flow nicely from the kitchen to the adjacent rooms. That isn't to say that it all has to match, but just make sure that the lighting design moves well from room to room.
Pendants– Once upon a time, the trend was to put a few small pendant lights over the kitchen island. However, more and more homeowners are discovering that fewer, larger pendant lights can be used to make a statement.
Fixture shape– The shape of your lighting fixtures also makes a difference. By using several different shapes that still look nice together, you keep your kitchen more visually interesting. The different-shaped fixtures will also allow for better design flow from the kitchen to other rooms.
Inside cabinets– Adding lighting inside of cabinets can serve multiple purposes. For glass-front cabinets, the light can show off what's inside. In other cabinets, it can help you find what you're looking for much faster.
PROFESSIONAL DESIGN AND REMODELING SERVICES FROM ABOUT KITCHENS AND BATHS
About Kitchens and Baths has the Annapolis community abuzz with excitement over our stellar home renovation services. With an approximate timeline of only three weeks and two days for project completion, we outshine the competition in our reliability. From tear out to design, all aspects of each renovation project are handled in house by our expert team. We ensure customer satisfaction and consistent quality for all remodeling services. Visit our showroom to meet the About Kitchens team and discuss your design goals. Our home renovation services are versatile and detail-oriented, supporting all styles, features, and rooms. While kitchens and bathrooms are our primary focus, we also channel our skills to assist home office and laundry room renovations. The sky's the limit! Call us at 410-573-0877 or email us at aboutkitchensandbaths@yahoo.com or fill out our contact form today!
We're social! Follow our blog, Facebook, Houzz, and LinkedIn for all the latest updates and design ideas!