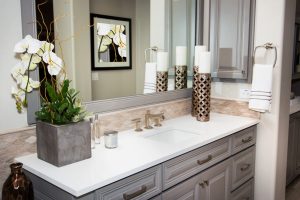 Renovating your bathroom is much easier than you think. Even if you are concerned about how much energy you are using, there are still ways to light up your bathroom. Here are some ideas that you can run with if you don't know where to start. 
Ambient Lights
One way to upgrade the lights in your bathroom is to think about how you want to do it. One idea is to use ambient lights. If you don't already, then you can put a chandelier in the bathroom. That's a great way to help make the lights the focal point of the bathroom. There are some factors you must consider. Make sure the new light is over the walkway and not where all the people who plan on using the bathroom will be standing. It's easier to light from behind than it is from above. 
Task Lighting
You'll also need some new task lights in your redesigned bathroom. If tasking lighting can help you in the kitchen, why not consider using it in your bathroom as well? Lose the shadows and gain a better look at your face. This means that brushing your teeth and taking care of other grooming tasks instantly becomes easier. For the best results, you will want to install vertical lights on either side of the mirror. Task lighting will also help you out in the shower, too. 
Accent Lighting 
Try using strip lighting to help upgrade your bathroom as well. Turning your bathroom into a spa is a worthwhile endeavor. Consider using LED lights as well or undermounted lights as well. Halogen lights are also good ideas for this type of light. Plus, LED lights can help you save more energy, and with it, more money.
PROFESSIONAL DESIGN AND REMODELING SERVICES FROM ABOUT KITCHENS AND BATHS
About Kitchens and Baths has the Annapolis community abuzz with excitement over our stellar home renovation services. With an approximate timeline of only three weeks and two days for project completion, we outshine the competition in our reliability. From tear out to design, all aspects of each renovation project are handled in house by our expert team. We ensure customer satisfaction and consistent quality for all remodeling services. Visit our showroom to meet the About Kitchens team and discuss your design goals. Our home renovation services are versatile and detail-oriented, supporting all styles, features, and rooms. While kitchens and bathrooms are our primary focus, we also channel our skills to assist home office and laundry room renovations. The sky's the limit! Call us at 410-573-0877 or email us at aboutkitchensandbaths@yahoo.com or fill out our contact form today!
We're social! Follow our blog, Facebook, Houzz, and LinkedIn for all the latest updates and design ideas!