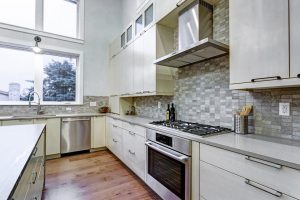 Welcome to About Kitchens and Baths, LLC! We are a full service kitchen and bathroom remodeling company located in Annapolis, Maryland. Don't let the name fool you, we also remodel other rooms, including home offices and laundry rooms!
About Us
Founded in 1992, About Kitchens started on Hudson Street in Annapolis, where it remains to this day. At first, we called our company About Kitchens and More, Inc. until 2007. The name change came after a downturn in the economy. That didn't slow us down, though, as we welcomed new team members and new product lines. We've always focused on treating the customer right. We pride ourselves on working with our customers to get the best results possible, on time and on budget.
Our Design Services
Every project starts with the design consultation. Start making your new kitchen or bathroom a reality with our design services. We're known all over Anne Arundel County as the place to go to when you want a gorgeous new space. There are ten steps in our process, starting with the consultation and finishing with the warranty. We keep homeowners informed throughout every step in the renovation. We'll help you define your goals for your home's new spaces and then turn those dreams into reality.
Kitchen Planning and Remodeling
Whether you want a kitchen that is traditional, contemporary, transitional, or rustic, we can make that happen for you. We'll start with the consultation phase, and then move on through determining the scope of work, create preliminary drawings, make the selections and finalize all the details, give you an estimate, draw up a contract, and then order the materials. After completing a quality check, we'll give you a walkthrough before starting the job, finishing it, and setting you up with a warranty.
Bathroom Remodeling and Renovating
The bathroom renovating process is similar, as it follows the same steps. However, we'll also help you decide on the style of bathroom that you want, and help you decide on features and other design options.
Professional Design and Remodeling Services from About Kitchens and Baths
About Kitchens and Baths has the Annapolis community abuzz with excitement over our stellar home renovation services. With an approximate timeline of only three weeks and two days for project completion, we outshine the competition in our reliability. From tear out to design, all aspects of each renovation project are handled in house by our expert team. We ensure customer satisfaction and consistent quality for all remodeling services. Visit our showroom to meet the About Kitchens team and discuss your design goals. Our home renovation services are versatile and detail-oriented, supporting all styles, features, and rooms. While kitchens and bathrooms are our primary focus, we also channel our skills to assist home office and laundry room renovations. The sky's the limit! Call us at 410-573-0877 or email us at aboutkitchensandbaths@yahoo.com or fill out our contact form today!
We're social! Follow our blog, Facebook, Houzz, and LinkedIn for all the latest updates and design ideas!