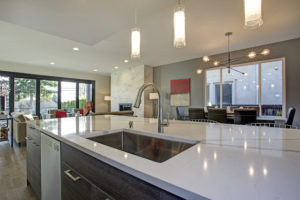 When you're designing your new kitchen, you're going to have a lot of options so sift through. To help you with one of the elements of your kitchen, we've assembled this handy guide to some of the most popular counter top materials.
Granite
Although it has recently started to get some competition, granite still remains the most popular counter top material. Granite counter tops are cut from slabs of natural rock, which means that no two pieces are exactly alike. Be sure to wipe up any spills right away and re-seal your granite annually.
Wood
A wood counter top will give your kitchen a warm, homey feel. This type of counter top is also surprisingly durable. Any scratches that might occur can usually be buffed out and it will look good as new again. Be sure to protect your wood counter top from direct heat, though, as the wood is vulnerable to high temperatures. Care should be taken during installation, too, as the wood can warp if not installed properly.
Stainless Steel
Stainless steel counter tops are extremely versatile: they can fit pretty much any design from modern and industrial to a Homestyle country farm house. It can also withstand heat up to 800 degrees Fahrenheit. While stainless steel can rust, as long as your counter top is properly cared for, it will last decades.
Caring for a stainless steel counter top is simple. No need for bleach or other harsh chemicals, simply mix up a solution of vinegar and water to disinfect. The best part of stainless steel counter tops is that the sink (s), drainer, and counter top can be made in one piece for super easy clean-ups!
Engineered Stone
Typically, engineered stone is manufactured containing about 90% quartz. This makes it an extraordinarily hard, durable counter top material. Engineered stone counter tops have a look very similar to granite and marble, but they stand up to heavy use far better.
Concrete
Concrete counter tops are virtually indestructible. They come in a variety of finishes, and are completely customizable. Just make sure to seal regularly to prevent water damage. Although the concrete itself isn't very expensive, installation takes a great deal of attention to details so labor is a bit more than some others and well worth it.
PROFESSIONAL DESIGN AND REMODELING SERVICES FROM ABOUT KITCHENS AND BATHS
About Kitchens and Baths has the Annapolis community abuzz with excitement over our stellar home renovation services. With an approximate timeline of only three weeks and two days for project completion, we outshine the competition in our reliability. From tear out to design, all aspects of each renovation project are handled in house by our expert team. We ensure customer satisfaction and consistent quality for all remodeling services. Visit our showroom to meet the About Kitchens team and discuss your design goals. Our home renovation services are versatile and detail-oriented, supporting all styles, features, and rooms. While kitchens and bathrooms are our primary focus, we also channel our skills to assist home office and laundry room renovations. The sky's the limit! Call us at 410-573-0877 or email us at aboutkitchensandbaths@yahoo.com or fill out our contact form today!
We're social! Follow ourblog,Facebook,Houzz, andLinkedIn for all the latest updates and design ideas!