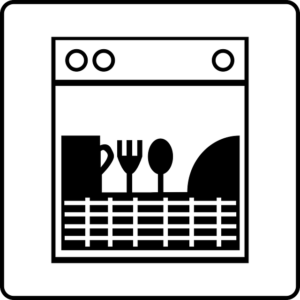 Let's face it, arranging all of the dishes in just the right way to maximize space in your dishwasher can be tedious. When you're designing your new kitchen, you can save yourself a lot of headaches if you choose to have a second dishwasher installed.
Make Cleanup Easier
Throwing parties in your home is a lot of fun. You get to spend quality time with your friends and loved ones. But what happens when everyone leaves? You get stuck with cleaning an awful lot of dishes! With an extra dishwasher, you will have plenty of room for all of them! Wouldn't it be nice to just toss them all in at once, and not have to deal with washing more than one load? Or even having to hand wash whatever didn't fit? A second dishwasher makes cleaning a breeze!
Variety of Size Options
If you want the convenience of a second dishwasher but you don't really have the space for a second full-sized machine, that's fine! There are a wide variety of sizes on the market. The professional kitchen designers at About Kitchens and Baths will be happy to assist you in finding whatever solution will work best for your home. Give us a call today!
Great for Kosher Families
Many, many families choose to keep Kosher. This often means separate refrigerators and freezers for keeping foods properly. If your family keeps Kosher, that second dishwasher would undoubtedly be a great help. You can have one dishwasher for your meat and dairy plates, glasses, and other utensils and the other one can be for the Kosher utensils.
PROFESSIONAL DESIGN AND REMODELING SERVICES FROM ABOUT KITCHENS AND BATHS
About Kitchens and Baths has the Annapolis community abuzz with excitement over our stellar home renovation services. With an approximate timeline of only three weeks and two days for project completion, we outshine the competition in our reliability. From tear out to design, all aspects of each renovation project are handled in house by our expert team. We ensure customer satisfaction and consistent quality for all remodeling services. Visit our showroom to meet the About Kitchens team and discuss your design goals. Our home renovation services are versatile and detail-oriented, supporting all styles, features, and rooms. While kitchens and bathrooms are our primary focus, we also channel our skills to assist home office and laundry room renovations. The sky's the limit! Call us at 410-573-0877 or email us at aboutkitchensandbaths@yahoo.com or fill out our contact form today!
We're social! Follow our blog, Facebook, Houzz, and LinkedIn for all the latest updates and design ideas!