Your kitchen is the heart of your home. It's where the meal prep happens, sure, but it's also a gathering place, a homework station, and sometimes a game room. When remodeling your kitchen, it is essential to give colors some careful thought. Take a look at this handy guide to choosing colors for your home's kitchen!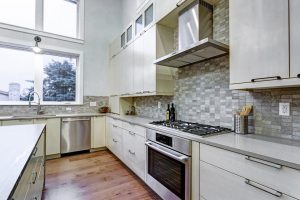 Choose a Color Palette
Choose a few paint chips and maybe some material samples. Then, take them home so you can see the colors "in action" in your space. Which colors highlight your kitchen's natural light? Does something look totally different in your home than it did in the showroom? You should always test colors in the actual room before committing to anything!
Consider All Parts of the Kitchen
Choosing kitchen colors isn't just about paint. Your kitchen has many parts to consider: cabinets, countertops, flooring, and backsplashes should also be taken into consideration. When designing your custom kitchen, the details are important, but you should also consider the big picture.
Start with Cabinets
Any wall space that's not covered by paint or a backsplash is going to have cabinets on it. Your cabinets make up a significant portion of your kitchen and often become the focal point of the room. As such, they are often a good start when choosing colors and materials for the space.
Neutral Countertops
Your countertops are one of the first things that people will see when looking at your kitchen. Keeping them neutral will allow your color choices to stand out even more.
Creative Paint and Backsplashes
Paint colors and backsplash tiles are where you can really let your creativity run wild. Show off your style with the little details of your custom kitchen. Create an eye-catching mosaic or paint a wild color on the walls. If you decide you don't like it in a year or two, these things are easily changed!
Don't Forget Lighting
While color is undoubtedly important, lighting in your custom kitchen also makes a huge difference. Many colors will look quite different with different light levels. Choose lighting that shows off the colors you chose.
PROFESSIONAL DESIGN AND REMODELING SERVICES FROM ABOUT KITCHENS AND BATHS
About Kitchens and Baths has the Annapolis community abuzz with excitement over our stellar home renovation services. With an approximate timeline of only three weeks and two days for project completion, we outshine the competition in our reliability. From tear out to design, all aspects of each renovation project are handled in house by our expert team. We ensure customer satisfaction and consistent quality for all remodeling services. Visit our showroom to meet the About Kitchens team and discuss your design goals. Our home renovation services are versatile and detail-oriented, supporting all styles, features, and rooms. While kitchens and bathrooms are our primary focus, we also channel our skills to assist home office and laundry room renovations. The sky's the limit! Call us at 410-573-0877 or email us at aboutkitchensandbaths@yahoo.com or fill out our contact form today!
We're social! Follow our blog, Facebook, Houzz, and LinkedIn for all the latest updates and design ideas!