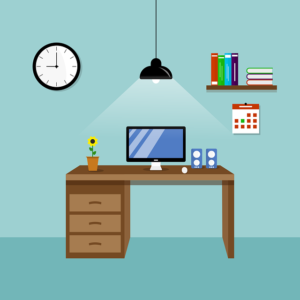 Since the COVID-19 pandemic reached the US, there has been a tremendous shift from millions of people who once commuted to offices now working from their homes. Most people don't consider a home office when shopping for a home, so there is more of a need for those types of spaces than ever before. If you have found yourself in need of a home office, here are some tips for creating the best space possible!
Shelving and Storage
So many things are stored online these days; however, you will probably still need some sort of storage in your home office. This can be particularly useful if the space has to function for multiple purposes. Work materials can be safely stowed away while the office is being used as a playroom or guest bedroom, for example.
Incorporate Interesting Visuals
If you're used to working in a traditional office building, whether in a closed office or a cubicle, you have noticed that a lot of offices tend to look very similar. Colors are generally neutral, and furniture pieces are designed purely for function with little to no attention to appearance. With your home office, you can let your creativity run wild! Bright colors, bold lines, and unique wall art will make a space that is perfect for getting things done.
A Breath of Fresh Air
Never underestimate the power of a fresh breeze! It can be so refreshing to feel some outside air after hours inside at your computer. If your chosen home office space doesn't have at least one window, consider having one installed. You will be shocked at how much it can improve your productivity!
PROFESSIONAL DESIGN AND REMODELING SERVICES FROM ABOUT KITCHENS AND BATHS
About Kitchens and Baths has the Annapolis community abuzz with excitement over our stellar home renovation services. With an approximate timeline of only three weeks and two days for project completion, we outshine the competition in our reliability. From tear-out to design, all aspects of each renovation project are handled in house by our expert team. We ensure customer satisfaction and consistent quality for all remodeling services. Visit our showroom to meet the About Kitchens team and discuss your design goals. Our home renovation services are versatile and detail-oriented, supporting all styles, features, and rooms. While kitchens and bathrooms are our primary focus, we also channel our skills to assist home office and laundry room renovations. The sky's the limit! Call us at 410-573-0877 or email us at aboutkitchensandbaths@yahoo.com or fill out our contact form today!
We're social! Follow our blog, Facebook, Houzz, and LinkedIn for all the latest updates and design ideas!