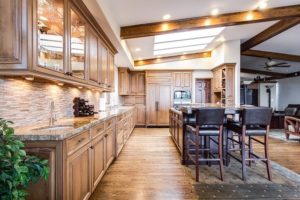 Anyone looking to remodel their kitchen has a lot to think about. One of the many decisions you'll be making has to do with your kitchen counter. There are so many options when it comes to countertop materials that it can feel a little overwhelming.
The Appearance
The biggest decision to make boils down to aesthetics. What does each countertop material look like? Corian is seamless, while granite has the most natural beauty. Minerals naturally sink into granite, meaning that every slab looks different. Even if you had a granite countertop before, it probably won't look the same as the new one you get installed.
The Maintenance
Once your kitchen is taken to the next level, you'll probably want to spend more time inside it. However, that means a lot more wear and tear on your countertops. Durability and maintenance make more of a difference than you might think, since cooking and baking can take their toll on the kitchen. Quartz is the most impervious to damage and it doesn't need sealing or complicated cleaning measures. Quartz and Corian are both sanitary, which, with COVID-19 so widespread, definitely score some points in their favor. Granite is durable but can crack, stain, and develop fissures. Although sealing granite is simple, it will need these treatments quite often.
The Budget
Upgrading your kitchen takes a lot of time and money. That's why one of the biggest factors in the project is what your budget looks like. Per square foot, quartz is usually the most expensive. Corian can be just as expensive as granite, or even more so. Out of the three, granite is the least expensive, and that might be the easiest option for most homeowners to choose. The only exception to the price rule is that standard solid-color Corian can be as affordable as granite. It all comes down to what you want and what you can afford.
PROFESSIONAL DESIGN AND REMODELING SERVICES FROM ABOUT KITCHENS AND BATHS
About Kitchens and Baths has the Annapolis community abuzz with excitement over our stellar home renovation services. With an approximate timeline of only three weeks and two days for project completion, we outshine the competition in our reliability. From tear-out to design, all aspects of each renovation project are handled in house by our expert team. We ensure customer satisfaction and consistent quality for all remodeling services. Visit our showroom to meet the About Kitchens team and discuss your design goals. Our home renovation services are versatile and detail-oriented, supporting all styles, features, and rooms. While kitchens and bathrooms are our primary focus, we also channel our skills to assist home office and laundry room renovations. The sky's the limit! Call us at 410-573-0877 or email us at aboutkitchensandbaths@yahoo.com or fill out our contact form today!