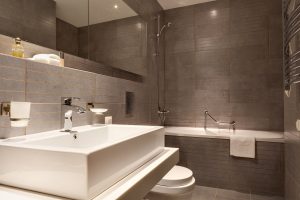 Bathroom remodeling, despite how the home channel may make it look, is very hard work. There is a lot you need to know about measurements, plumbing, and even electrical wiring in order to complete such a project safely. That is why you should never attempt to do it yourself. Here are just a few of the many reasons you shouldn't attempt to remodel your own bathroom. 
Waterproofing
Due to the amount of water being used in a bathroom, waterproofing is one of the most important parts of a bathroom remodeling project. It is also one of the most common ways someone can mess up if attempting to DIY their remodel. Without an in-depth knowledge of bathroom remodeling, it is difficult to know for sure that the renewed space will be totally waterproof. 
How Long Will It Take?
A common misconception is that since bathrooms tend to take the least amount of time to remodel. This belief has led many handy homeowners to tackle bathroom remodeling projects on their own, thinking that they can get it done over a few short days.  This could not be further from the truth, as a full-scale bathroom remodel can take as many as 20 to 30 days of work. 
It is also quite common for someone to get excited about their remodeling project and start the demolition process only to find out that materials they need aren't in stock in the required quantities. A professional contractor will make sure to have all of the required supplies in-stock before beginning a project. 
Asbestos and Mold
If a home was built before 1984, it is common to find asbestos when remodeling a bathroom. It is most commonly found in walls and ceilings and under the floors of bathrooms. Due to the moisture in bathrooms, it is also common to find mold when remodeling. You may notice black spots in between tile grout. When tearing out tile, it is important to always wear a mask. Asbestos is especially harmful if inhaled and requires licensed professionals to remove safely. 
PROFESSIONAL DESIGN AND REMODELING SERVICES FROM ABOUT KITCHENS AND BATHS
About Kitchens and Baths has the Annapolis community abuzz with excitement over our stellar home renovation services. With an approximate timeline of only three weeks and two days for project completion, we outshine the competition in our reliability. From tear-out to design, all aspects of each renovation project are handled in house by our expert team. We ensure customer satisfaction and consistent quality for all remodeling services. Visit our showroom to meet the About Kitchens team and discuss your design goals. Our home renovation services are versatile and detail-oriented, supporting all styles, features, and rooms. While kitchens and bathrooms are our primary focus, we also channel our skills to assist home office and laundry room renovations. The sky's the limit! Call us at 410-573-0877 or email us at aboutkitchensandbaths@yahoo.com or fill out our contact form today!