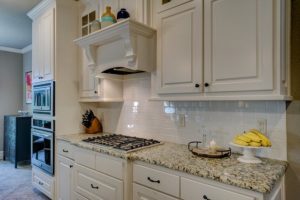 Are you getting excited about your upcoming kitchen remodel? One of the biggest portions of a kitchen remodeling budget is the cabinetry. Replacing cabinets is sometimes necessary, but it can really eat into your remodeling budget. Ask your contractor if cabinet refacing is an option. Refacing your kitchen cabinets can make some big, much-needed changes to your kitchen storage!
Colors and Styles
The colors of your walls, counters, and flooring are great ways to show off your design flair and personal style in your kitchen, but there is another way you can change the color scheme of your kitchen: your cabinets. One of the most popular things homeowners like to do with their cabinet refacing is to exchange darker materials for a light grey or bright white. You can also add glass-front doors to put your dishes on display! With all of the different cabinet materials and colors available, the possibilities are endless!
Customize Your Storage
Every family's needs and lifestyles are different, so why make everyone's kitchen storage the same? Your cabinet refacing project can go deeper with the installation of customized inserts. Racks and peg systems can helps to organize pots, pans, plates, and cups. Drawer inserts can keep spices, cutlery, and kitchen gadgets neat and ordered. We can even install a lazy Susan and some roll-out shelving to hold anything you can possibly think of!
Upgrade to Slow-Close
Want to make your cabinet doors and drawer fronts last while decreasing noise in the kitchen? Ask us about upgrading your hinges and sliders to slow-close, slam-proof versions! This detail is often overlooked and can make a much bigger difference than you think.
PROFESSIONAL DESIGN AND REMODELING SERVICES FROM ABOUT KITCHENS AND BATHS
About Kitchens and Baths has the Annapolis community abuzz with excitement over our stellar home renovation services. With an approximate timeline of only three weeks and two days for project completion, we outshine the competition in our reliability. From tear-out to design, all aspects of each renovation project are handled in house by our expert team. We ensure customer satisfaction and consistent quality for all remodeling services. Visit our showroom to meet the About Kitchens team and discuss your design goals. Our home renovation services are versatile and detail-oriented, supporting all styles, features, and rooms. While kitchens and bathrooms are our primary focus, we also channel our skills to assist home office and laundry room renovations. The sky's the limit! Call us at 410-573-0877 or email us at aboutkitchensandbaths@yahoo.com or fill out our contact form today!