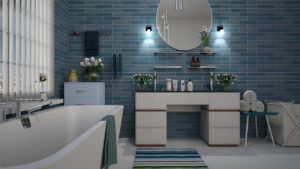 Redesigning your bathroom doesn't always mean a huge hit to your wallet. It's possible to do it on a budget and still be trendy. When you get your bathroom remodeled by About Kitchens, you know you have a team that you can trust on your side. What are some of the trends that are hot this summer?
Luxury
How much luxury do you want? That's one of the questions you've got to answer while planning your bathroom remodeling project. Fixtures make more of a difference than you might expect. If you're ready to get started, then speak to one of our experts today!
More Tech
More and more homeowners are integrating smart tech into their homes – in the kitchen and beyond! Showers and sprays that turn on and off when you exit the shower or enter can bring some of the spa-like environment into your bathroom.
Lighting
Being able to see what you're doing in your bathroom is hugely important. That's why you need the best lighting that you can get. A chandelier can make a classy statement, as can mood lighting or a multi-light fixture positioned above the vanity.
Mosaic Tile
Another idea is to use a mosaic tile. Glass, ceramic, and tiles have been used for thousands of years to make a decorative statement. Now, you can bring some of that look home into your remodeled bathroom. Take your walls and floors up a notch!
Letting Nature In 
Besides letting in more natural light with repositioned windows or skylights, you can do more to let nature into your remodeled bathroom. Wood, stone tile, granite, bamboo, and slate are just some of the materials you can use to add a natural touch. Then choose colors that mimic those found in nature – brown, beige, blue, green, and gray. 
PROFESSIONAL DESIGN AND REMODELING SERVICES FROM ABOUT KITCHENS AND BATHS
About Kitchens and Baths has the Annapolis community abuzz with excitement over our stellar home renovation services. With an approximate timeline of only three weeks and two days for project completion, we outshine the competition in our reliability. From tear-out to design, all aspects of each renovation project are handled in house by our expert team. We ensure customer satisfaction and consistent quality for all remodeling services. Visit our showroom to meet the About Kitchens team and discuss your design goals. Our home renovation services are versatile and detail-oriented, supporting all styles, features, and rooms. While kitchens and bathrooms are our primary focus, we also channel our skills to assist home office and laundry room renovations. The sky's the limit! Call us at 410-573-0877 or email us at aboutkitchensandbaths@yahoo.com or fill out our contact form today!