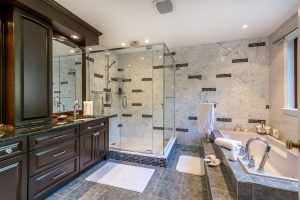 Finding the perfect flooring throughout your home can be a challenge. Certain materials work better in some rooms compared to others. In fact, when it comes to a new bathroom, there are certain things every homeowner will need to consider. The reality is, bathrooms are most spaces that require flooring that can handle the elements — specifically water! Here are some flooring options that are guaranteed to make your brand-new bathroom a place everyone in your home can enjoy.
Porcelain Or Ceramic Tile
For the most part, porcelain tile is highly prized as the go-to flooring material in bathrooms. In fact, porcelain tile is not only waterproof but also incredibly stylish, cost effective, and fairly inexpensive compared to other flooring materials out there. While porcelain and ceramic tile are similar in nature — there are some clear differences between them. Ultimately, the difference lies in the water absorption rate which is crucial when it comes to a bathroom floor. As a result, with so many different options of tiles, homeowners have a wide array of styles to choose from providing a unique opportunity to create a bathroom that showcases their unique personality easily and effectively.
Vinyl Flooring
Another option for homeowners when it comes to flooring is vinyl. In fact, very stylish and practical, vinyl flooring comes in three different types. Sheet, plank and tile are the vinyl flooring options available to homeowners looking to update their bathroom and create a space that allows them to easily relax and unwind. Typically, sheet vinyl flooring is the go-to option for those looking to expect a lot of water in the space. This is often the best choice for a children's bathroom or laundry room. An increasingly popular option is luxury vinyl plank flooring which is traditionally the favored flooring option in a master bathroom. 
PROFESSIONAL DESIGN AND REMODELING SERVICES FROM ABOUT KITCHENS AND BATHS
About Kitchens and Baths has the Annapolis community abuzz with excitement over our stellar home renovation services. With an approximate timeline of only three weeks and two days for project completion, we outshine the competition in our reliability. From tear out to design, all aspects of each renovation project are handled in house by our expert team. We ensure customer satisfaction and consistent quality for all remodeling services. Visit our showroom to meet the About Kitchens team and discuss your design goals. Our home renovation services are versatile and detail-oriented, supporting all styles, features, and rooms. While kitchens and bathrooms are our primary focus, we also channel our skills to assist home office and laundry room renovations. The sky's the limit! Call us at 410-573-0877 or email us at aboutkitchensandbaths@yahoo.com or fill out our contact form today!
We're social! Follow our blog, Facebook, Houzz, and LinkedIn for all the latest updates and design ideas!