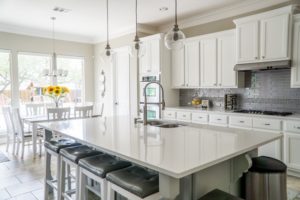 One way to remodel your kitchen is to get a new island in it. This can radically redesign the layout of your kitchen. If you don't know what to do with it, here are some ideas for you to try. 
Adding a Sink 
Having more than one sink in your kitchen can vastly increase its functionality. This means you have a place to wash dishes later once you are done preparing your next meal. That's why you can be ready for a party or even a family gathering like Thanksgiving without stressing out too much. 
Add Some Furniture 
You can add furniture into your kitchen. One way to do it is to design around the island that you want to add into the room. Play around with the different shapes, styles, and decorative touches that can make your kitchen pop. 
Add Some Shelves 
Don't forget about the shelves! It's one thing to have shelves around the stove and next to the fridge. You can also incorporate them into your new kitchen island. This is where you can keep your cookbooks or dishes or plates that you don't have room for elsewhere in your kitchen. 
Add More Color 
The more color you have in the kitchen, the happier you will feel. This will help you want to spend more time in your kitchen. Spending more time in the kitchen is another motivation for getting an overhaul done. 
Rethink Seating 
Since your new kitchen is going to have more space in it, think about what you want to do with it. Different chairs might be needed than the ones you had before. The table can be placed next to the island, or you can keep them separated. It's all up to you. 
PROFESSIONAL DESIGN AND REMODELING SERVICES FROM ABOUT KITCHENS AND BATHS
About Kitchens and Baths has the Annapolis community abuzz with excitement over our stellar home renovation services. With an approximate timeline of only three weeks and two days for project completion, we outshine the competition in our reliability. From tear out to design, all aspects of each renovation project are handled in house by our expert team. We ensure customer satisfaction and consistent quality for all remodeling services. Visit our showroom to meet the About Kitchens team and discuss your design goals. Our home renovation services are versatile and detail-oriented, supporting all styles, features, and rooms. While kitchens and bathrooms are our primary focus, we also channel our skills to assist home office and laundry room renovations. The sky's the limit! Call us at 410-573-0877 or email us at aboutkitchensandbaths@yahoo.com or fill out our contact form today!
We're social! Follow our blog, Facebook, Houzz, and LinkedIn for all the latest updates and design ideas!