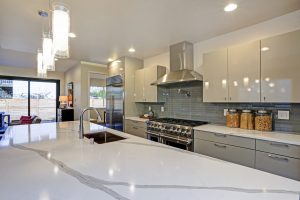 It used to be that many people who remodeled parts of their home, especially the kitchens, did so with an eye towards selling the home in the near future. Today, many homeowners know that they will be staying in their homes for the long haul (rather than planning for a retirement home), so remodels serve as a chance to improve their living space to enable "aging in place".  Aging in place simply means living as much of your later years in your own residence as possible, and it allows older people to maintain their independence and and remain self-sufficient longer. When you're remodeling your kitchen, it provides a great opportunity to incorporate some aging in place design ideas.
INCLUDE SPACE
Standing for long periods of time may not always be an option. As you lay out your new kitchen, include enough space behind counters and workstations or in walkways for a chair or even a wheelchair, so that the space is still usable even when standing becomes difficult.

REDUCE BENDING
As we age, bending and reaching becomes more difficult, as does climbing up on chairs or stools to reach something. Plan your storage solutions now to decrease how much bending or climbing you have to do later. You should also keep this in mind when planning where outlets go – make them easy to reach as well and when locating built in appliances, like the dishwasher.
LIGHT IT UP
Include lots of lighting in your new kitchen design, including inside the cabinets or pantries, and you will have a much more age-friendly kitchen. Consider upgrading switches or even opting for an entirely motion-sensor based system to make it even easier to use.
IMPROVE HARDWARE
Another thing that becomes harder as we age is some fine motor movement, so opt for easy-to-grip hardware now. Small and sleek may seem more stylish today, but you will thank yourself for choosing comfort and ease-of-use later. There are also many hands-free options on the market today, from faucets to doors, which can make them even easier to use.
UPGRADE APPLIANCES
When you're upgrading your appliances, choose ones that have clear, easy to read displays and buttons. Often as people age, eye sight diminishes, so plan for this in your choices now.
INCREASE EASE OF ORGANIZATION
Finally, when you're planning your organization, try to make it easy to see and remember what goes where. Glass doors can help, as can open style shelving.
PROFESSIONAL DESIGN AND REMODELING SERVICES FROM ABOUT KITCHENS AND BATHS
About Kitchens and Baths has the Annapolis community abuzz with excitement over our stellar home renovation services. With an approximate timeline of only three weeks and two days for project completion, we outshine the competition in our reliability. From tear out to design, all aspects of each renovation project are handled in house by our expert team. We ensure customer satisfaction and consistent quality for all remodeling services. Visit our showroom to meet the About Kitchens team and discuss your design goals. Our home renovation services are versatile and detail-oriented, supporting all styles, features, and rooms. While kitchens and bathrooms are our primary focus, we also channel our skills to assist home office and laundry room renovations. The sky's the limit! Call us at 410-573-0877 or email us at aboutkitchensandbaths@yahoo.com or fill out our contact form today!