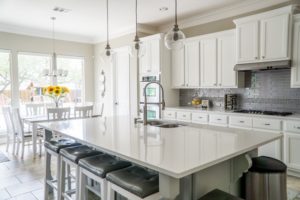 When it's time to update and remodel your kitchen, there are a lot of exciting and useful options or additions you might choose. One of the biggest is the kitchen island. There are so many ways you can use a kitchen island to make your kitchen more functional. And while loving the way it looks is also important, those uses should be the fundamental characteristic that you consider in choosing your new kitchen island.
USE IT FOR PREP
Any island can give you additional prep space since the counter space that it adds can be used for most food prep activities. When you add a sink to the island, you transform it from merely more counter space to a new kitchen work station. Significant parts of the work that you need to do in the kitchen can be transferred to that area. For instance, you could reserve the island for only cutting meat so there is never any cross-contamination with other foods. Or you could designate the island as the dish cleaning zone (especially if you also install the dishwasher there).
USE IT FOR SEATING
Before deciding on an island, consider how often it will be used for table space, either to eat on or simply to sit at. If you have an open concept kitchen, your island does an important double-duty as a visual divider and a place for people to sit and talk to you while you cook. If you plan for your kids to work on homework at the island while you cook, make sure to include enough comfortable seating for them (and also some friends).
USE IT FOR STYLE
Islands are also a great way to add your sense of style to your kitchen. If you have a favorite furniture style, bring some of that design into the island (like with ornately carved wooden legs). If you have a favorite color, the island could be a great place to add that color to your kitchen as a fun pop, without being too overdramatic.
USE IT FOR STORAGE
Finally, consider how the island could add to and improve your storage. There will not only be under-counter storage, but you could install storage overhead, such as an interesting pot rack. Find unique ways to incorporate storage solutions that will work for your life.
PROFESSIONAL DESIGN AND REMODELING SERVICES FROM ABOUT KITCHENS AND BATHS
About Kitchens and Baths has the Annapolis community abuzz with excitement over our stellar home renovation services. With an approximate timeline of only three weeks and two days for project completion, we outshine the competition in our reliability. From tear out to design, all aspects of each renovation project are handled in house by our expert team. We ensure customer satisfaction and consistent quality for all remodeling services. Visit our showroom to meet the About Kitchens team and discuss your design goals. Our home renovation services are versatile and detail-oriented, supporting all styles, features, and rooms. While kitchens and bathrooms are our primary focus, we also channel our skills to assist home office and laundry room renovations. The sky's the limit! Call us at 410-573-0877 or email us at aboutkitchensandbaths@yahoo.com or fill out our contact form today!