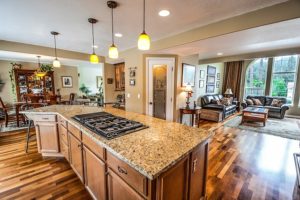 Think about the design of your kitchen right now. As it stands, does it need more space, more light, more storage? Have you been tearing your hair out directing traffic during dinner parties? These are all signs that you might want to consider an open-concept kitchen. If you're not sure what open-concept kitchens are, then you're in for a treat.
What Is It?
In an open-concept kitchen, there are no barriers or walls breaking up the flow of the room. The dining room and living room are easily accessible from the kitchen, and the fusion of all three rooms becoming interconnected with one another is often referred to as the great room. Most of the time, a home will traditional have low walls separating each room and load bearing walls to help support the roof and ceiling. If this makes you too feel too claustrophobic, then it might be time for a change. After all, this style of remodel has been gaining steam for the last thirty years or so.
What Are Some Benefits?
Now it's time to look at some of the benefits of an open-concept kitchen. It helps open up your space, which can do wonders for the aesthetics of your home's interior. If your kitchen feels too small and cramped, then this could be the solution that you've been looking for for months on end without success. It's also a great way to bond with everyone in your family and your guests – because snacks, conversations, and television can all be enjoyed no matter where everyone is gathered. You can also bring in more natural light into your home, which is a big deal during the bright and sunny days of summer.
How Come They're Not More Popular?
You will have to deal with all of the noise that this design could feed into your home. It's also harder to hide your kitchen when it is messy, and you'll also lose some storage space, but sliding cabinet doors and pocket doors can help alleviate some of that stress.
PROFESSIONAL DESIGN AND REMODELING SERVICES FROM ABOUT KITCHENS AND BATHS
About Kitchens and Baths has the Annapolis community abuzz with excitement over our stellar home renovation services. With an approximate timeline of only three weeks and two days for project completion, we outshine the competition in our reliability. From tear out to design, all aspects of each renovation project are handled in house by our expert team. We ensure customer satisfaction and consistent quality for all remodeling services. Visit our showroom to meet the About Kitchens team and discuss your design goals. Our home renovation services are versatile and detail-oriented, supporting all styles, features, and rooms. While kitchens and bathrooms are our primary focus, we also channel our skills to assist home office and laundry room renovations. The sky's the limit! Call us at 410-573-0877 or email us at aboutkitchensandbaths@yahoo.com or fill out our contact form today!
We're social! Follow our blog, Facebook, Houzz, and LinkedIn for all the latest updates and design ideas!