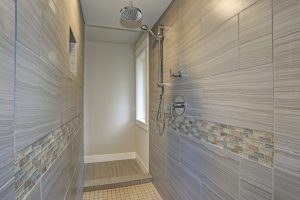 Remodeling your bathroom doesn't need to be a struggle. When you find the right partner to get it done, you just know that a sign from the universe has arrived. Here are some of the things you need to think about the next time you sit down to consider how you can make your bathroom better. 
Figure Out the Issues
Before anything can happen, you need to outline why your bathroom needs to be remodeled in the first place. Making it more luxurious is an admirable goal, but you have to make sure you have the budget and patience to turn your dream into a reality. Fixing up the plumbing and adding a tub liner is just scratching the surface of what's wrong. Putting in a new tub and a new toilet or floating the vanity won't mean much if the water coming out is disgusting because your pipes have gotten too old.
Think About Other People 
Next, you will have to consider your family members and guests. Get some valuable input from them before you proceed. While it may be your decision to get the work underway, unless you live alone, this is a change that will affect everyone else under your roof. 
Agree on a Budget 
After that, the time has come to determine your available budget. Having some wiggle room is better than running up against the ceiling of how much you can spend only to find out that your funds are exhausted. Labor costs and delays could make the project more confusing, so you will have to account for that as you move forward.
Design a Schedule 
Finally, get serious and design a schedule. It will take more than a few weeks to get everything done, depending on the scope of the remodeling you want to do to your bathroom. This schedule will change depending on the size of the bathroom – a powder room is much more to upgrade than a master bath, after all. 
PROFESSIONAL DESIGN AND REMODELING SERVICES FROM ABOUT KITCHENS AND BATHS
About Kitchens and Baths has the Annapolis community abuzz with excitement over our stellar home renovation services. With an approximate timeline of only three weeks and two days for project completion, we outshine the competition in our reliability. From tear out to design, all aspects of each renovation project are handled in house by our expert team. We ensure customer satisfaction and consistent quality for all remodeling services. Visit our showroom to meet the About Kitchens team and discuss your design goals. Our home renovation services are versatile and detail-oriented, supporting all styles, features, and rooms. While kitchens and bathrooms are our primary focus, we also channel our skills to assist home office and laundry room renovations. The sky's the limit! Call us at 410-573-0877 or email us at aboutkitchensandbaths@yahoo.com or fill out our contact form today!
We're social! Follow our blog, Facebook, Houzz, and LinkedIn for all the latest updates and design ideas!