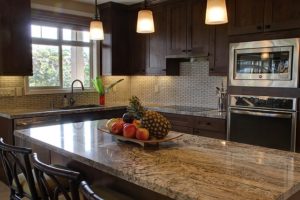 Summer is almost here, and you know what that means. You're going to have dinner parties more often, and if you have a second kitchen in your home or you have an outdoor kitchen, then you will have someplace to cook while the remodel is taking place. Here are some great features you could incorporate into your new space.
Put In Open Shelving
If you are worried about how closed-off your kitchen feels, then get rid of that feeling. One way to do this is through open shelving. That way, you can what everything in your shelves is without having to open the doors of cabinets. This touch can make a small kitchen feel larger, break up the monotony of multiple cabinets, and make it more interesting to the eye. Plus, all of your cookbooks, teapots, cooking utensils, pots, and pans will be easier to find and retrieve.
Get Rid of Old Appliances
Even if they still work, you shouldn't hang onto the same microwave, refrigerator, stovetop, and oven you had in 1970. It's time to get rid of old appliances and install newer ones in their place that are more energy efficient, cook your food faster, and help modernize your kitchen. Stainless steel can help make your kitchen look and feel better, especially if you plan on spending more time in your kitchen this summer.
Add More Workspace
Preparing meals in the kitchen or washing the dishes can be frustrating without enough workspace. Plus, you'll have more room for blenders to make protein shakes, kettles to pour tea, and toasters for your morning bagel. You might want to think about adding an island to your kitchen, and if it's too small for that, then rolling carts will be the quickest solution until you can afford to have a larger kitchen than you thought possible.
PROFESSIONAL DESIGN AND REMODELING SERVICES FROM ABOUT KITCHENS AND BATHS
About Kitchens and Baths has the Annapolis community abuzz with excitement over our stellar home renovation services. With an approximate timeline of only three weeks and two days for project completion, we outshine the competition in our reliability. From tear out to design, all aspects of each renovation project are handled in house by our expert team. We ensure customer satisfaction and consistent quality for all remodeling services. Visit our showroom to meet the About Kitchens team and discuss your design goals. Our home renovation services are versatile and detail-oriented, supporting all styles, features, and rooms. While kitchens and bathrooms are our primary focus, we also channel our skills to assist home office and laundry room renovations. The sky's the limit! Call us at 410-573-0877 or email us at aboutkitchensandbaths@yahoo.com or fill out our contact form today!
We're social! Follow our blog, Facebook, Houzz, and LinkedIn for all the latest updates and design ideas!