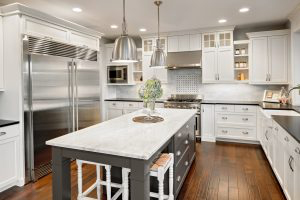 Did you know that remodeling your kitchen is easier than you might think? Doing all of your research and picking out the new appliances, light fixtures, floors, and other essential elements is one thing. But every journey starts with a single step. Here are some of the ways you can make the kitchen remodeling process so much simpler. 
Plan Ahead
You've got to plan ahead. Creating a plan helps smooth the entire process out. You know what you want to do and how to get there weeks or even months in advance. Of course, plans can always change, but having an idea of how to make your new kitchen a reality contributes a great deal of vision to the project. If you're having trouble with inspiration, don't hesitate to do some searching online!
Set a Budget 
The next step involves building your budget. Try to stick to this budget. If you come in under budget, that's fantastic! But if you go over it, don't fret. These things happen when it's time to renovate any room in your home, including the kitchen. You've got to be realistic about what to expect, but sometimes, you deserve to splurge on something. If it's something you've always wanted, then don't hesitate to give it a try. 
Find a Reputable Contractor 
Now that you've got a budget worked out, you've got to get professionals involved. You can only do so much when you're aiming to remodel your kitchen. Reputable contractors will help get you across the finish line. If you have any doubts at all, let the professionals here at About Kitchens and Baths help you to figure them out! 
Get Timely Updates
Don't overlook how important updates are. During the time that your kitchen is being upgraded, you might not be able to use it. This can prove to be a huge disruption to your daily routines. Getting timely updates from your contractors can relieve some of that frustration. 
PROFESSIONAL DESIGN AND REMODELING SERVICES FROM ABOUT KITCHENS AND BATHS
About Kitchens and Baths has the Annapolis community abuzz with excitement over our stellar home renovation services. With an approximate timeline of only three weeks and two days for project completion, we outshine the competition in our reliability. From tear out to design, all aspects of each renovation project are handled in house by our expert team. We ensure customer satisfaction and consistent quality for all remodeling services. Visit our showroom to meet the About Kitchens team and discuss your design goals. Our home renovation services are versatile and detail-oriented, supporting all styles, features, and rooms. While kitchens and bathrooms are our primary focus, we also channel our skills to assist home office and laundry room renovations. The sky's the limit! Call us at 410-573-0877 or email us at aboutkitchensandbaths@yahoo.com or fill out our contact form today!