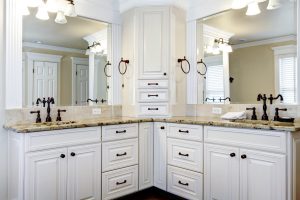 A tiny bathroom doesn't have to feel claustrophobic. There are always ways to make it feel bigger than it truly is. If you're feeling stuck and in need of inspiration, then take thiese ideas and try them out. 
Pick Different Colors
One idea is to pick different colors for the bathroom. Neutral colors and pastels can help the room feel more open than it was before. Relying on pink and beige isn't your only option. You can also think about using bright towels to give the room a splash of cheerful color. That's always a valuable change as long as you don't overdo it. 
Choose Different Lighting
Another idea is to play around with the lights in the bathroom. Every bathroom, no matter how large it is, needs to have some useful lighting. It's hard to see what you're doing if you don't even have a nightlight. Chandeliers will eat up too much space. Instead, consider using recessed lighting. A soft, warm glow can help the bathroom feel more comfortable and bigger at the same time. Addng larger windows and even some skylights. Those can help open up the kitchen, and it's also a great way to let more light into your bathroom. 
Consider the Mirrors
Getting ready to face the day is harder to do without any mirrors. That's why you should consider changing out the mirrors in the bathroom too. Plus wider mirrors provide an aesthetic boost. Flat medicine cabinets and other recessed cabinets also help create more space in the room, too. 
Change the Sink
The vanity is an important part of the bathroom, but changing it can help open up space in your tiny bathroom. Remember, a powder room has a different purpose than a master bath. Even so, it still needs to have a sink where people can wash their hands, brush their teeth, and fix their hair. Pedestal and wall-mounted sinks can add more storage, too. 
PROFESSIONAL DESIGN AND REMODELING SERVICES FROM ABOUT KITCHENS AND BATHS
About Kitchens and Baths has the Annapolis community abuzz with excitement over our stellar home renovation services. With an approximate timeline of only three weeks and two days for project completion, we outshine the competition in our reliability. From tear out to design, all aspects of each renovation project are handled in house by our expert team. We ensure customer satisfaction and consistent quality for all remodeling services. Visit our showroom to meet the About Kitchens team and discuss your design goals. Our home renovation services are versatile and detail-oriented, supporting all styles, features, and rooms. While kitchens and bathrooms are our primary focus, we also channel our skills to assist home office and laundry room renovations. The sky's the limit! Call us at 410-573-0877 or email us at aboutkitchensandbaths@yahoo.com or fill out our contact form today!