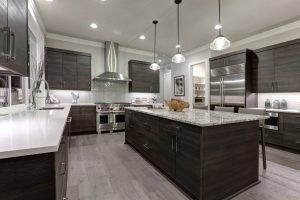 When you start a remodeling project, you're probably looking forward to it. Think about all of the exciting possibilites! Although you're dreaming about new lighting fixtures, new flooring, and even new appliances, something you might overlook is the kitchen counter. Which material do you want for it? Let's find out more.
Choose Granite
Granite is one of the most common materials used to make countertops. You might even have one right now or did in your previous home! Slabs of naturally-forming rock are cut up and then shaped into the necessary pieces. This also means that every piece of cut granite is unique. Even if your neighbors have granite countertops, they won't look the same as yours. Now how's that for a slice of fried gold? However, there are some things to know about granite if you want to use it for your next countertop.
Choose Wood
Yes, you can use wood for your new countertop! This can help your kitchen feel warmer than it did before. Plus, it's more durable than you think. Any visible signs of scratching can be removed through the process of buffing. One thing to note is that it can't withstand direct heat. Also, keep an eye on how the wood counters are installed. If something goes wrong, the wood could be warped or crooked.
Choose Stainless Steel
Stainless steel is an attractive option for your appliances. Why not give it a shot for your counterop? Unlike other materials, it can hold up amazingly well when you apply direct heat. Just be careful it doesn't rust. Also you won't have to worry about using harsh chemicals to clean it. All you need is some water and white vinegar.
Choose Engineered Stone
Engineered stone is another good idea. Most of it is quartz, which means that it is fantastically durable. They look like granite and marble, but aren't as fragile. Now doesn't that sound appealing?
PROFESSIONAL DESIGN AND REMODELING SERVICES FROM ABOUT KITCHENS AND BATHS
About Kitchens and Baths has the Annapolis community abuzz with excitement over our stellar home renovation services. With an approximate timeline of only three weeks and two days for project completion, we outshine the competition in our reliability. From tear out to design, all aspects of each renovation project are handled in house by our expert team. We ensure customer satisfaction and consistent quality for all remodeling services. Visit our showroom to meet the About Kitchens team and discuss your design goals. Our home renovation services are versatile and detail-oriented, supporting all styles, features, and rooms. While kitchens and bathrooms are our primary focus, we also channel our skills to assist home office and laundry room renovations. The sky's the limit! Call us at 410-573-0877 or email us at aboutkitchensandbaths@yahoo.com or fill out our contact form today!