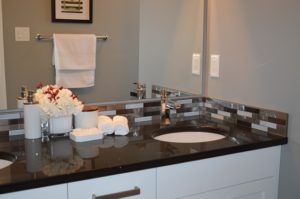 Is it time to redesign different parts of your bathroom? If it is, then you don't have to stress out about changing the entire room all at once. You can start with something simple, like replacing the vanity. 
Add Some Outlets
Adding more outlets to your bathroom can be more useful than you think. Your custom bathroom can meet all of your needs, no matter how many devices you need to be able to plug in at once. Electric toothbrushes can charge along with flat irons, hair curlers, and handheld electric face scrubbers.   
Change the Storage 
Updating the storage in your bathroom is another reason to rethink your vanity. This means that the space inside it is adjustable, no matter what the situation might be! Feel free to have guests stay for the weekend or accomodate a growing family. Either way, you can make it work!
Float the Vanity 
Another idea is to float the vanity. This can help open up valuable floor space. If you have a smaller bathroom, floating the vanity can help the space feel even larger. Plus, it is much easier to clean the floor underneath the floating vanity since it doesn't sit flush against the ground.
Open Up the Shelving
Turning your bathroom into a spa is also possible! This project doesn't have to be as complex or time-consuming as you might assume. Having open shelving installed can make a huge difference. After that, you can use baskets to collect toiletries and then you have another space to hand towels or washcloths. 
Choose Upcycling
Upcycling is good for the environment. It can be good for you, too! Go to an antique shop or other specialty store that caters to interior designers. You can find old tables, dressers, and cabinets to serve as your new vanity, instead! 
PROFESSIONAL DESIGN AND REMODELING SERVICES FROM ABOUT KITCHENS AND BATHS
About Kitchens and Baths has the Annapolis community abuzz with excitement over our stellar home renovation services. With an approximate timeline of only three weeks and two days for project completion, we outshine the competition in our reliability. From tear out to design, all aspects of each renovation project are handled in house by our expert team. We ensure customer satisfaction and consistent quality for all remodeling services. Visit our showroom to meet the About Kitchens team and discuss your design goals. Our home renovation services are versatile and detail-oriented, supporting all styles, features, and rooms. While kitchens and bathrooms are our primary focus, we also channel our skills to assist home office and laundry room renovations. The sky's the limit! Call us at 410-573-0877 or email us at aboutkitchensandbaths@yahoo.com or fill out our contact form today!