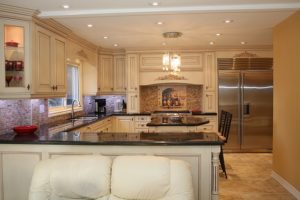 The kitchen is the heart of your home. You probably spend more time there than you might think. At some point, your kitchen will deserve a facelift. Have you ever wondered what an open-concept kitchen is? Well, you're not alone! 
What Are Open-Concept Kitchens? 
Normally, you'd see walls in a kitchen hiding it from the other rooms around it. However, in an open-concept design, it's easy to walk into the dining room and the living. All three rooms flow seamlessly into each other, forming a single great room. Even low walls can feel too constricting. Let's say that one solution for this is to include a pass-through and pocket doors in your kitchen design – what if that isn't enough? Choosing an open-concept design can make more of a difference than you might think! 
What Benefits Do You Get? 
One of the biggest reasons to remodel your kitchen is that this project has many benefits. So you might be wondering, what benefits do you get from an open-concept kitchen? We're so glad you asked! For one thing, your kitchen feels wide open, which improves the aesthetics of your home's interior. It can also be a great way to encourage bonding between all of your family because now it's a hub for snacks, drinks, laughter, and conversation. Also, you can bring more natural light into your home, which can help everyone under your roof feel better!
Why Aren't They More Popular? 
One last question remains: why aren't open-concept kitchens more popular than they are? Well, for one thing, they've been gaining popularity for over thirty years now. It's much harder to hide the mess in an open-concept kitchen and you'll also likely lose some valuable storage space as well. 
PROFESSIONAL DESIGN AND REMODELING SERVICES FROM ABOUT KITCHENS AND BATHS
About Kitchens and Baths has the Annapolis community abuzz with excitement over our stellar home renovation services. With an approximate timeline of only three weeks and two days for project completion, we outshine the competition in our reliability. From tear out to design, all aspects of each renovation project are handled in house by our expert team. We ensure customer satisfaction and consistent quality for all remodeling services. Visit our showroom to meet the About Kitchens team and discuss your design goals. Our home renovation services are versatile and detail-oriented, supporting all styles, features, and rooms. While kitchens and bathrooms are our primary focus, we also channel our skills to assist home office and laundry room renovations. The sky's the limit! Call us at 410-573-0877 or email us at aboutkitchensandbaths@yahoo.com or fill out our contact form today!
We're social! Follow our blog, Facebook, Houzz, and LinkedIn for all the latest updates and design ideas!