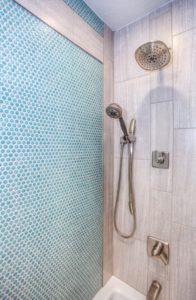 Today we will share signs that it's time to replace your bathroom shower. Some homeowners feel inclined to upgrade their bathrooms for aesthetic purposes. Sometimes they want to keep up with the latest remodeling trends or ensure that their home holds a lot of resale value. However, there are times when home improvement should be a need versus a want. Today we're going to go over four signs that bathroom shower replacement should happen sooner than later and not for style purposes. 
Upgrade Your Bathroom Shower If Fixtures Aren't Working Optimally
It all depends on your budget, but sometimes an entire bathroom redesign isn't feasible. Still, small steps such as adding a new shower head or faucet make all the difference if you want to improve your shower's functionality. Do you see leaks coming from your fixtures when you're not using the shower? Is your showerhead not supplying the desired water pressure? If so, you should look into an upgrade. 
If There's Mold
If you notice black or dark green spots on your shower head, your first step should, of course, be to clean the showerhead. However, depending on the circumstances, mold may return. If this is the case, a redesigned shower can offer better ventilation. 
Cracked or Chipped Shower Tiles
Chipped or cracked tiles in your bathroom shower are undeniably unsightly. However, they also create a hazard. Chipped or cracked tiles are dangerous because you never want to cut your hands or foot on any exposed or broken tiles. If it's been challenging to replace or repair these tiles in an aesthetically pleasing way, calling us to replace your bathroom shower is a convenient, stress-free option. 
If Your Shower Doors Aren't Closing
Shower doors serve the purpose of keeping water inside your shower area. The last thing that any homeowner wants is water flooding the bathroom floor. If your shower doors aren't closing or if they leak, it's undoubtedly time for an upgrade. 
The bottom line is that upgrading your bathroom shower has multiple benefits. A project such as this keeps you safe, keeps your bathroom sanitary, and keeps your bathroom from aging prematurely or looking outdated. If you're interested in bathroom remodeling, we have options available to ensure your satisfaction, exceed your expectations, and meet your unique needs. 
PROFESSIONAL DESIGN AND REMODELING SERVICES FROM ABOUT KITCHENS AND BATHS
About Kitchens and Baths has the Annapolis community abuzz with excitement over our stellar home renovation services. With an approximate timeline of only three weeks and two days for project completion, we outshine the competition in our reliability. From tear-out to design, all aspects of each renovation project are handled in house by our expert team. We ensure customer satisfaction and consistent quality for all remodeling services. Visit our showroom to meet the About Kitchens team and discuss your design goals. Our home renovation services are versatile and detail-oriented, supporting all styles, features, and rooms. While kitchens and bathrooms are our primary focus, we also channel our skills to assist home office and laundry room renovations. The sky's the limit! Call us at 410-573-0877 or email us at aboutkitchensandbaths@yahoo.com or fill out our contact form today!