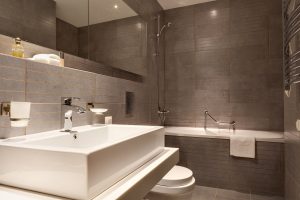 Remodeling your bathroom is always a great idea. After all, you can take your bathroom from functional to fabulous. If you want to have the full spa experience without all of the expense, then it's time to treat yourself! Here are some ideas for you to think about including during the planning phase! 
Upgrade the Bathtub 
The bathtub ties the bathroom together. It doesn't matter if the shower and tub are presented as a pair or are separate elements. Focus your efforts and budget on taking the bathtub to the next level. Just imagine how you would enjoy a spa tub or jacuzzi tub, or a walk-in tub if you need one! The floor space will help guide you on whether your tub should be a soaker model. You can also make it large enough to fit two people and add some jets to it, too. 
Rethink the Shower 
Along those same lines, it's time to redo the shower. Think about how much floor space is available. Do you want a framed door or a frameless door? Asking this question only makes sense if you have a shower stall. What showerhead do you want? Do you prefer one model over another? 
Replace the Flooring
The flooring in the bathroom is also important. You can cover the floor with cushy mats all you want, but the look and feel of the floors will contribute to a better overall atmosphere inside the bathroom, since it is one of the most important rooms in your home. Tiles have many different colors, shapes, sizes, and textures. Stone and slate provide these textures, which can make for a sophisticated touch. It's also easier to move around and avoid tripping even when the floor is wet. That's always a risk you have to be aware of, so why not make your bathroom as safe as possible?  
PROFESSIONAL DESIGN AND REMODELING SERVICES FROM ABOUT KITCHENS AND BATHS
About Kitchens and Baths has the Annapolis community abuzz with excitement over our stellar home renovation services. With an approximate timeline of only three weeks and two days for project completion, we outshine the competition in our reliability. From tear out to design, all aspects of each renovation project are handled in house by our expert team. We ensure customer satisfaction and consistent quality for all remodeling services. Visit our showroom to meet the About Kitchens team and discuss your design goals. Our home renovation services are versatile and detail-oriented, supporting all styles, features, and rooms. While kitchens and bathrooms are our primary focus, we also channel our skills to assist home office and laundry room renovations. The sky's the limit! Call us at 410-573-0877 or email us at aboutkitchensandbaths@yahoo.com or fill out our contact form today!