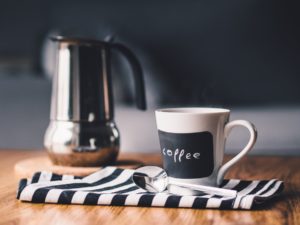 Coffee lovers all over the world already know how much they spend on their favorite beverage. Even if you can afford to treat yourself, that doesn't mean you can't turn your kitchen into your own personal coffee bar! Let's look at some of the ways you can upgrade your kitchen in this fashion. 
A Sleeker Design
One idea to try involves a sleeker design for your kitchen. This aesthetic emphasizes a minimalist for your kitchen. This means that the area where you prepare your coffee and tea is the star of the show. Also, you can take advantage of what darker wood can do for your kitchen – namely, make it feel larger than it actually is. The coffee maker itself is integrated into the cabinetry, there is ample storage for mugs and glasses, and you can also use this setup as a bar for mixing cocktails and other beverages should the occasion call for it.
Using Open Shelving
Open shelving is another fantastic way to take your remodeled kitchen to the next level. This also serves another purpose: it makes the coffee station much more accessible. You can see all of the supplies you have, and you have the added bonus of a great view from the large window that you can pair with your brand new shelving units. 
Built-In Designs
As we mentioned above, the coffee makers can be built directly into the cabinets and shelves of your redesigned kitchen. There is less counter space, but it is enough to fix up your coffee with cream, sugar, and any other toppings that you prefer. 
Under the Stairs
An unusal design choice is to build your coffee station directly under the stairs. If space is at a premium in your home, then this can be an inventive solution to make the most of your kitchen's floor space. There's also a sink included in the nook, which makes rinsing out your French presses and bean scoops even easier than ever before! 
PROFESSIONAL DESIGN AND REMODELING SERVICES FROM ABOUT KITCHENS AND BATHS
About Kitchens and Baths has the Annapolis community abuzz with excitement over our stellar home renovation services. With an approximate timeline of only three weeks and two days for project completion, we outshine the competition in our reliability. From tear out to design, all aspects of each renovation project are handled in house by our expert team. We ensure customer satisfaction and consistent quality for all remodeling services. Visit our showroom to meet the About Kitchens team and discuss your design goals. Our home renovation services are versatile and detail-oriented, supporting all styles, features, and rooms. While kitchens and bathrooms are our primary focus, we also channel our skills to assist home office and laundry room renovations. The sky's the limit! Call us at 410-573-0877 or email us at aboutkitchensandbaths@yahoo.com or fill out our contact form today!