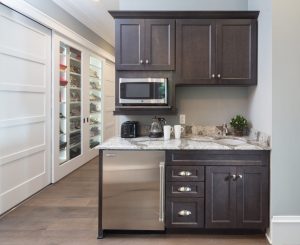 You will probably spend most of your time this holiday season standing in your kitchen. That might be one reason to start thinking about ways to change the floors. Here are some of the ideas that you can think about as you begin this process.
Analyzing Aesthetic Appeal 
The first step is to consider the aesthetics of your kitchen. Even a small kitchen can feel pleasant as long as you can reduce the amount of clutter in it. The flooring needs to match the countertops, the cabinets, and the shelves. Plus, if you have a hutch in your kitchen, then integrating it can be a struggle. The style and tone of your kitchen as it is right now should guide your decisions moving forward. Do some research online and in magazines to help you pick out the aesthetic you want to achieve. 
Budgeting the Best Material 
The second step is to finalize a budget. By determining how much you can afford to spend, you can pick the flooring types that will help make your kitchen feel more comfortable. Hardwood flooring is a classic that will stand the test of time. However, you need to make sure that you can protect it against water damage. One idea is to use engineered hardwood instead. You can also consider laminate flooring in your upgraded kitchen, since it's much easier to clean!
Queuing Up Curious Questions
The third step is to come up with a list of pressing questions. For instance, how do you live? Your lifestyle also has bearing on the floors and other surfaces you want to install in your kitchen. 
Pricing Out the Perks
The fourth and final step involves calculating the costs. Having a solid budget will decrease the amount of confusion during this part of the process. additional, unexpected costs might pop up, but when you work with experts in home remodeling, such as the team at About Kitchens and More, then you won't need to worry!
PROFESSIONAL DESIGN AND REMODELING SERVICES FROM ABOUT KITCHENS AND BATHS
About Kitchens and Baths has the Annapolis community abuzz with excitement over our stellar home renovation services. With an approximate timeline of only three weeks and two days for project completion, we outshine the competition in our reliability. From tear out to design, all aspects of each renovation project are handled in house by our expert team. We ensure customer satisfaction and consistent quality for all remodeling services. Visit our showroom to meet the About Kitchens team and discuss your design goals. Our home renovation services are versatile and detail-oriented, supporting all styles, features, and rooms. While kitchens and bathrooms are our primary focus, we also channel our skills to assist home office and laundry room renovations. The sky's the limit! Call us at 410-573-0877 or email us at aboutkitchensandbaths@yahoo.com or fill out our contact form today!
We're social! Follow our blog, Facebook, Houzz, and LinkedIn for all the latest updates and design ideas!