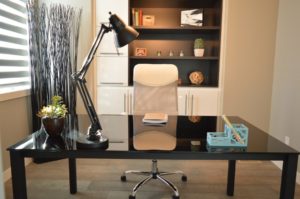 Working from home represents a great opporunity. It can make the weekly 9-5 grind feel less exhausting. Plus, it allows you to set your own hours if you wish, especially if your employer is willing to grant you that flexibility. Even if you aren't bound to a desk job, having an office at your home is still a fantastic addition. 
Spiffy New Bookcases
The industrial aesthetic might not be for everyone. Even so, you can incorporate it into your home office and give it an entirely different feel from the rest of the house. Everything is functional and straight to the point. Plus the open floor plan can help you feel relaxed, which might not be the case if your typical office job has you sitting in a cubicle. 
Using Silhouettes
Even a small home office deserves to look stylish. Another aesthetic you could consider integrating is the contemporary one. Rethink the drawers, shelves, and desktops. 
Getting Visual 
Never underestimate the value of being able to stare at a different set of walls for awhile. That's why it's worth it to try working in another part of the house from time to time. But if you spend most of your waking hours in your home office, pick brighter colors or use unique wall hangings, pictures, and decorations that can spice up a blank wall. 
Function over Form 
Emphasizing function over form doesn't mean you have to sacrifice anything. Play around with different colors, shapes, and sizes. Plus, this allows you to get some work done in style. 
Form over Function 
That said, you can also try prioritizing form over function. The open air workspace is more beneficial than you might think. A fresh breeze, even on a cold day, can help you perk up when you've been at the computer for hours and you need a small break. 
PROFESSIONAL DESIGN AND REMODELING SERVICES FROM ABOUT KITCHENS AND BATHS
About Kitchens and Baths has the Annapolis community abuzz with excitement over our stellar home renovation services. With an approximate timeline of only three weeks and two days for project completion, we outshine the competition in our reliability. From tear out to design, all aspects of each renovation project are handled in house by our expert team. We ensure customer satisfaction and consistent quality for all remodeling services. Visit our showroom to meet the About Kitchens team and discuss your design goals. Our home renovation services are versatile and detail-oriented, supporting all styles, features, and rooms. While kitchens and bathrooms are our primary focus, we also channel our skills to assist home office and laundry room renovations. The sky's the limit! Call us at 410-573-0877 or email us at aboutkitchensandbaths@yahoo.com or fill out our contact form today!
We're social! Follow our blog, Facebook, Houzz, and LinkedIn for all the latest updates and design ideas!