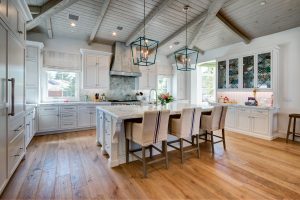 What is on your list of home improvements this year? If one of them is to remodel your kitchen, then you should know that there is more to think about than what you might have seen on TV! Here are some things to keep in mind as you begin to remodel your kitchen in 2020! 
Current Kitchen Functions 
First of all, consider your kitchen as it is right now. How does it work? One of the reasons many homeowners decide to remodel their kitchens is because they are unhappy with the current state of their kitchens. If it is too small, then you will probably want to expand it. However, doing this isn't feasible in every house. Another solution is to rearrange the layout of your appliances and work triangle. Putting an island in will also make a massive difference! After all, it creates another space to prepare meals or get some work done!  
Necessary Storage Space 
If you don't have enough storage in your kitchen, then that's probably another reason to renovate your kitchen. Cabinets and drawers are two of the most important parts of your kitchen, so that is why you should ignore them. Putting the microwave over the stove instead of allowing it to take up counter space is a great idea. Don't forget about the pantry, either! This is a great place to store dry goods like bread, snacks, cereals, and bags of dog food.
Budget Concerns 
Your budget might put a cap on how much you can do. Stick to your budget as closely as you can. Focus the majority of your money on what you really want, and if there's anything left over, then you can push it to the next level. Plus, you will be able to deal with any hidden costs that pop up when you least expect it!
PROFESSIONAL DESIGN AND REMODELING SERVICES FROM ABOUT KITCHENS AND BATHS
About Kitchens and Baths has the Annapolis community abuzz with excitement over our stellar home renovation services. With an approximate timeline of only three weeks and two days for project completion, we outshine the competition in our reliability. From tear out to design, all aspects of each renovation project are handled in house by our expert team. We ensure customer satisfaction and consistent quality for all remodeling services. Visit our showroom to meet the About Kitchens team and discuss your design goals. Our home renovation services are versatile and detail-oriented, supporting all styles, features, and rooms. While kitchens and bathrooms are our primary focus, we also channel our skills to assist home office and laundry room renovations. The sky's the limit! Call us at 410-573-0877 or email us at aboutkitchensandbaths@yahoo.com or fill out our contact form today!