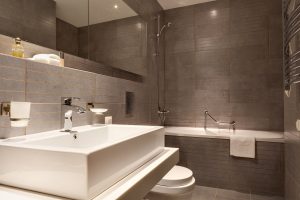 Remodeling your bathroom is a super fun project! During this type of remodel, many homeowners choose to do it one section at a time, due to the amount the room gets used. One of the most important parts of your bathroom is the shower, so when you choose to remodel it you want to make sure it goes as smoothly as possible! 
WHAT TYPE OF PROJECT DO YOU WANT?
Think about the changes you would like to make. Do you want to simply change out some fixtures and be done with it? Or do you want to replace tile and add heating to the floor? If it's time to make a change but you're not really sure where you'd like to start, starting with the smaller, more subtle changes may be the best way to go. Here at About Kitchens and Baths, we would be happy to create your perfect bathroom, whether it's a simple small project or something more! 
CONSIDER YOUR BUDGET
One of the most important considerations of any remodeling project is choosing a budget. As with any other project, your imagination is only limited by your budget. Do you want to keep it simple? Or do you want to create a luxury shower? There are many ways to work with whatever budget you have so that you get the most for your money. Once you have your budget planned out, it will be super easy to plan out the other components of your shower remodel!
PROFESSIONAL DESIGN AND REMODELING SERVICES FROM ABOUT KITCHENS AND BATHS
About Kitchens and Baths has the Annapolis community abuzz with excitement over our stellar home renovation services. With an approximate timeline of only three weeks and two days for project completion, we outshine the competition in our reliability. From tear out to design, all aspects of each renovation project are handled in house by our expert team. We ensure customer satisfaction and consistent quality for all remodeling services. Visit our showroom to meet the About Kitchens team and discuss your design goals. Our home renovation services are versatile and detail-oriented, supporting all styles, features, and rooms. While kitchens and bathrooms are our primary focus, we also channel our skills to assist home office and laundry room renovations. The sky's the limit! Call us at 410-573-0877 or email us at aboutkitchensandbaths@yahoo.com or fill out our contact form today!
We're social! Follow our blog, Facebook, Houzz, and LinkedIn for all the latest updates and design ideas!