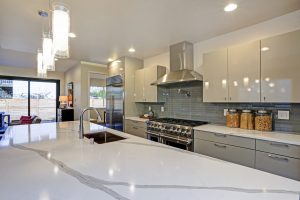 Remodeling your kitchen can inject more vibrancy into your kitchen. It all comes down to the changes you want to make. For instance, some well-placed task lighting can make it easier to wash the pots and pans or clean up the stove after you've cooked a mouth-watering meal. The kitchen countertop doesn't get enough credit, but without enough space, the kitchen wouldn't be the same! 
Granite Countertops
The iconic granite countertop is a classic for good reason. Without a doubt, it is still the most widely-used type of kitchen surface. You will find it in many different residences, even though it might not always be the same color, style, or texture. We get granite by cutting it out of natural, and each one gives us a unique pattern. Leave no stone unturned! 
Wooden Surfaces
Yes, you can have a wooden countertop. It makes your kitchen cozy and feel like home. Make more memories in a redesigned kitchen with an island featuring this topper. 
Steel That Doesn't Stain 
Stainless steel is science's gift to gorgeous kitchens everywhere. You can pair it with almost any aesthetic imaginable, and it has amazing heat resistance – up to 800 degrees Fahrenheit!
Re-Engineered Stone 
Engineered stone is another byproduct of modern science. The vast majority of it comes from quartz, which means that it is tougher than almost any other substance you can put in your remodeled kitchen. This stone looks like both granite and marble but have higher tolerance for heavy use. 
The Surprise of Concrete
Believe it or not, concrete is gaining popularity as a kitchen surface. They are almost impossible to damage or destroy, which is great news for anyone who relies on multiple electrical appliances when they cook. Many different finishes exist, but despite how wonderful concrete is, its one weakness is its porosity. You've got to reseal them on a regular basis to help keep them intact.
PROFESSIONAL DESIGN AND REMODELING SERVICES FROM ABOUT KITCHENS AND BATHS
About Kitchens and Baths has the Annapolis community abuzz with excitement over our stellar home renovation services. With an approximate timeline of only three weeks and two days for project completion, we outshine the competition in our reliability. From tear out to design, all aspects of each renovation project are handled in house by our expert team. We ensure customer satisfaction and consistent quality for all remodeling services. Visit our showroom to meet the About Kitchens team and discuss your design goals. Our home renovation services are versatile and detail-oriented, supporting all styles, features, and rooms. While kitchens and bathrooms are our primary focus, we also channel our skills to assist home office and laundry room renovations. The sky's the limit! Call us at 410-573-0877 or email us at aboutkitchensandbaths@yahoo.com or fill out our contact form today!
We're social! Follow our blog, Facebook, Houzz, and LinkedIn for all the latest updates and design ideas!