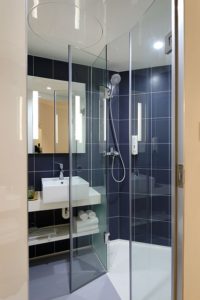 Believe it or not, the powder room is more important than you might think. Guest bathrooms still function as regular bathrooms, no matter what size they are. Even so, there are some essential items that you need to stock it with, whether or not you have any visitors, a situation that is probably going to be a reality for the next few months.
Higher-Quality Toilet Paper
First of all, you will want better toilet paper in your guest bathroom. Underestimating the value of better bathroom tissue would be a mistake. Even if you normally put the higher-quality paper in your master bathroom, take the time to share the wealth.
Even More Hand Soap
In these tough times, washing your hands becomes even more important. Swap out the bars of soap for liquid hand soap formulated with all-natural ingredients. For one thing, it won't be an easy breeding ground for germs that can spread from person to person in your household. Allergy season makes all of the uncertainty even worse, because there's still going to be coughing and sneezing due to all of the pollen in the air. Be prepared, because it's better to be safe than sorry. 
Natural Light
Adding windows and skylights will let more natural light in. although artificial light is convenient, by doing this you can save some money on your electrical bill, and there's something to be said about that! 
Nicer Towels
Don't forget to put out nicer towels for everyone to use. Every three days or so, take down the used towels and replace them with fresh towels that are ready to go! Then put the old towels through the laundry.
Somewhere to Put Jewelry
Finally, consider adding a dish for people to put down jewelry. The dish that the bar soap used to sit in is a good candidate for this touch – just make sure that its clean!
PROFESSIONAL DESIGN AND REMODELING SERVICES FROM ABOUT KITCHENS AND BATHS
About Kitchens and Baths has the Annapolis community abuzz with excitement over our stellar home renovation services. With an approximate timeline of only three weeks and two days for project completion, we outshine the competition in our reliability. From tear out to design, all aspects of each renovation project are handled in house by our expert team. We ensure customer satisfaction and consistent quality for all remodeling services. Visit our showroom to meet the About Kitchens team and discuss your design goals. Our home renovation services are versatile and detail-oriented, supporting all styles, features, and rooms. While kitchens and bathrooms are our primary focus, we also channel our skills to assist home office and laundry room renovations. The sky's the limit! Call us at 410-573-0877 or email us at aboutkitchensandbaths@yahoo.com or fill out our contact form today!