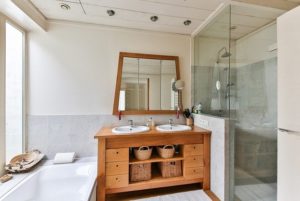 Getting a new custom bathroom means that you get to choose every single aspect of the project: layout, materials, colors, lighting, and more. Your options are only limited by your imagination. During the project, you will likely be looking through catalogues in an effort to select the best elements possible for your bathroom. Instead of trying to choose a vanity that might work  from a catalog, why not design a custom vanity that you know you will love? Here are just a few of the design elements that can be integrated into your custom vanity.
Outlets
By far one of the most useful features that you can add to your vanity would be outlets. Plug-in devices have become such an integral part of our everyday lives that the more outlets you have in more places, the better. By adding outlets to your custom vanity, you can plug in and use your favorite hair styling tools without having to move to be closer to an outlet!
Open Shelving
In a kitchen, you definitely want cabinets. In the bathroom, however, open shelving is far more useful. It keeps everything easily accessible. Towels and washcloths can be rolled up and folded nicely and put on shelves, and you can put smaller toiletries in decorative canisters. You could easily make your bathroom feel like a spa, right there in your own home!
Adjustable Storage
Families change. Bathroom storage needs change. With a custom vanity, you can design storage that can grow with your family. Whether you're having some guests over for a visit or adding a new member to your family, adjustable storage in your custom vanity allows you the peace of mind of knowing that bathroom storage is one less thing you will have to worry about.
PROFESSIONAL DESIGN AND REMODELING SERVICES FROM ABOUT KITCHENS AND BATHS
About Kitchens and Baths has the Annapolis community abuzz with excitement over our stellar home renovation services. With an approximate timeline of only three weeks and two days for project completion, we outshine the competition in our reliability. From tear out to design, all aspects of each renovation project are handled in house by our expert team. We ensure customer satisfaction and consistent quality for all remodeling services. Visit our showroom to meet the About Kitchens team and discuss your design goals. Our home renovation services are versatile and detail-oriented, supporting all styles, features, and rooms. While kitchens and bathrooms are our primary focus, we also channel our skills to assist home office and laundry room renovations. The sky's the limit! Call us at 410-573-0877 or email us at aboutkitchensandbaths@yahoo.com or fill out our contact form today!
We're social! Follow our blog, Facebook, Houzz, and LinkedIn for all the latest updates and design ideas!