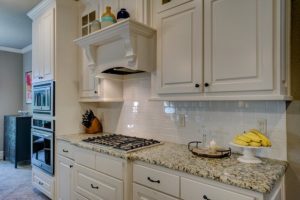 Spring is one of the best times to renew your kitchen. Does it need a splash of color? If it does, then there's no time like the present. Here is how you can add more color to your redesigned kitchen.
Play with the Palette
For one thing, try playing around with the palette you have available. Many different colors can refresh your kitchen, so test different combinations until you find the one you like best. Does anything strike your fancy? How does it work with the light in your kitchen streaming in from windows or skylights? These questions are the ones you should be asking.
Rethink the Entire Kitchen
From the ceiling to the walls to the floors, rethink the entire kitchen top to bottom. The cabinets need to be repainted as we will see. Be sure not to forget about the little things, but don't lose sight of your goals for the end of the project.
Rejuvenate the Cabinets
The cabinets are going to be some of the most heavily used parts of your kitchen. That's why you should take the time to rejuvenate them whenever you can. Make your cabinets the envy of all your friends and neighbors by sprucing them up!
Countertops and Backsplashes
Countertops and backsplashes are also important to redo. Part of a kitchen remodel is getting new surfaces put together and that means you can't forget about the work surfaces and the parts of the kitchen that prevent stains and spills from leaving unsightly blotches.
Hit the Lights
Don't forget about the lighting! Accent lighting is lovely, but task lighting is more important. It can help you see better whether you are preparing dinner, washing the dishes, or chopping up vegetables for dinner!
PROFESSIONAL DESIGN AND REMODELING SERVICES FROM ABOUT KITCHENS AND BATHS
About Kitchens and Baths has the Annapolis community abuzz with excitement over our stellar home renovation services. With an approximate timeline of only three weeks and two days for project completion, we outshine the competition in our reliability. From tear out to design, all aspects of each renovation project are handled in house by our expert team. We ensure customer satisfaction and consistent quality for all remodeling services. Visit our showroom to meet the About Kitchens team and discuss your design goals. Our home renovation services are versatile and detail-oriented, supporting all styles, features, and rooms. While kitchens and bathrooms are our primary focus, we also channel our skills to assist home office and laundry room renovations. The sky's the limit! Call us at 410-573-0877 or email us at aboutkitchensandbaths@yahoo.com or fill out our contact form today!
We're social! Follow our blog, Facebook, Houzz, and LinkedIn for all the latest updates and design ideas!