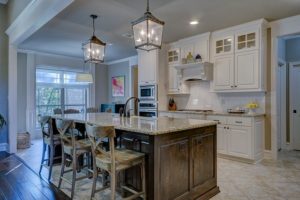 Your kitchen is the most important room in your home; it's time you gave it the makeover it deserves! For most of us, the kitchen serves as the center of the home – it's one of the areas we spend the most time in. When it comes to renovations and remodels, the kitchen is one of the spaces where your investment in changes really pays off. Not only does investing in your kitchen make your home feel more inviting, but it helps to increase the value of your home. That said, sometimes you only need minor changes to make your space feel new.
Fresh Paint 
Adding a fresh coat of paint to any room can help immediately make it seem more inviting and new. If you're hoping to make your space feel different, a dramatic color change may be just what you need. If your walls were dark, a bright white can be refreshing, or if they were white, try something bold to really switch it up. 
Replace Your Sink 
Sinks are one of the more overlooked aspects of the kitchen, they don't hold the same allure as a new fridge. Yet, your sink is a critical aspect of your kitchen, and upgrading may have more of an impact than you think. Try a farmhouse sink or a bold copper option for a stunning transformation. 
Upgrade Your Cabinets 
Changing out your cabinetry is something most would love to do, but it's not always on the table, especially if there are no issues with their construction. Adding a new paint or stain, or re-laminating can fix any cosmetic issues. 
Change Your Hardware 
One of the quickest ways to make your kitchen feel a little more special is to switch out the hardware on your cabinetry! Hardware can have a surprising amount of impact, and switching it out for something new is a great way to have a low maintenance transformation. 
Alter Your Lighting 
Is your kitchen too bright or too dim? Having multiple layers of lighting in adjustable brightness levels is a great way to upgrade. With the option for brighter or dimmer lighting, you can go from kitchen prep to mood lighting in no time. 
PROFESSIONAL DESIGN AND REMODELING SERVICES FROM ABOUT KITCHENS AND BATHS
About Kitchens and Baths has the Annapolis community abuzz with excitement over our stellar home renovation services. With an approximate timeline of only three weeks and two days for project completion, we outshine the competition in our reliability. From tear out to design, all aspects of each renovation project are handled in house by our expert team. We ensure customer satisfaction and consistent quality for all remodeling services. Visit our showroom to meet the About Kitchens team and discuss your design goals. Our home renovation services are versatile and detail-oriented, supporting all styles, features, and rooms. While kitchens and bathrooms are our primary focus, we also channel our skills to assist home office and laundry room renovations. The sky's the limit! Call us at 410-573-0877 or email us at aboutkitchensandbaths@yahoo.com or fill out our contact form today!
We're social! Follow our blog, Facebook, Houzz, and LinkedIn for all the latest updates and design ideas