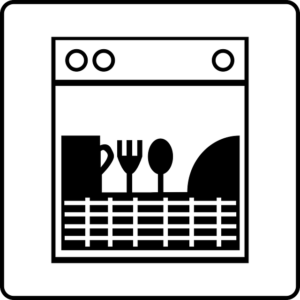 No matter how hard you try to keep dishes under control, sometimes it just seems impossible, in times like these, you will wish you had a second dishwasher. Although it is a useful skill, trying to wash a mountain of dishes by hand is tedious. Spend less time cleaning up and more time cooking delicious meals! 
Cleanup Goes Faster 
As we noted above, having a second dishwasher in your kitchen helps speed up the cleaning process. This means you'll be able to throw parties more often, especially once spring and summer reach full bloom. There are still going to be times when you feel overwhelmed, but that won't be as much of a concern anymore, not with a remodeled kitchen that has more time and effort-saving appliances!
Numerous Options
Another great reason to consider getting a second dishwasher is that you have several options. In this case, you can choose fomr numerous size differences. It all depends on the dimensions of your kitchen and the overall layout of the room. With so many options, it might be difficult to narrow them down – but don't worry! The friendly team at About Kitchens and Baths will be more than happy to guide you through the process!
Helps Respect Dietary Needs
Having a second dishwsher can also help you respect different dietary needs for your family and your guests. Since many families need to follow Kosher, Halal, or a Vegan diet, having a second dishwasher can help prevent accidental cross-contamination, especially if anyone under your roof has a sensitivity to gluten or full-blown celiac disease. The kosher utensils and plates and cups and bowls can be kept apart from the others which also makes this process much easier. 
PROFESSIONAL DESIGN AND REMODELING SERVICES FROM ABOUT KITCHENS AND BATHS
About Kitchens and Baths has the Annapolis community abuzz with excitement over our stellar home renovation services. With an approximate timeline of only three weeks and two days for project completion, we outshine the competition in our reliability. From tear out to design, all aspects of each renovation project are handled in house by our expert team. We ensure customer satisfaction and consistent quality for all remodeling services. Visit our showroom to meet the About Kitchens team and discuss your design goals. Our home renovation services are versatile and detail-oriented, supporting all styles, features, and rooms. While kitchens and bathrooms are our primary focus, we also channel our skills to assist home office and laundry room renovations. The sky's the limit! Call us at 410-573-0877 or email us at aboutkitchensandbaths@yahoo.com or fill out our contact form today!
We're social! Follow our blog, Facebook, Houzz, and LinkedIn for all the latest updates and design ideas!