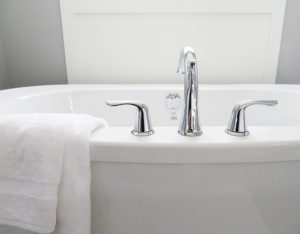 Take a minute to think about your bathtub. If it has been there for too long, then it's time to get rid of it. Out with the old and in with the new, as they say. So how do you know it's time for a new bathtub? Let's count the ways.
The Stains Won't Lift
Getting the stains out of your bathtub can be a pain. This is especially true if you don't get around to cleaning the tub more often than once every three months. Even so, the stains that are there should still come out. If they are stubborn or are caked in, then it's a sign you need a replacement.
It's Leaky
A leaky tub can spill water and soap suds all over your bathroom floor. Falling over because you've slipped on a wet patch of floor is never a fun time. Even if you regain your balance, it can be a terrifying experience, just like missing a step when you're going downstairs. If the leak isn't dealt with, it can eventually lead to the rampant growth of mold and mildew. Plug up the drain and run the water to see if the tub fills up. If it does as it's supposed to, then you're fine. Fixing a leak in a bathtub is almost impossible. At that point, you're much better off just getting a new tub entirely. 
Full of Mold
If your tub is full of mold and mildew, then you aren't going to want to use it. Just think of all the showers and baths you'll miss out on! The mold can also cause breathing issues, allergy attacks, and depression. All of these are serious issues, so you need to address them as soon as possible.
PROFESSIONAL DESIGN AND REMODELING SERVICES FROM ABOUT KITCHENS AND BATHS
About Kitchens and Baths has the Annapolis community abuzz with excitement over our stellar home renovation services. With an approximate timeline of only three weeks and two days for project completion, we outshine the competition in our reliability. From tear out to design, all aspects of each renovation project are handled in house by our expert team. We ensure customer satisfaction and consistent quality for all remodeling services. Visit our showroom to meet the About Kitchens team and discuss your design goals. Our home renovation services are versatile and detail-oriented, supporting all styles, features, and rooms. While kitchens and bathrooms are our primary focus, we also channel our skills to assist home office and laundry room renovations. The sky's the limit! Call us at 410-573-0877 or email us at aboutkitchensandbaths@yahoo.com or fill out our contact form today!
We're social! Follow our blog, Facebook, Houzz, and LinkedIn for all the latest updates and design ideas!